This article, Founding, is a community project. While you are free to edit, please do not edit or delete anything written by another user without their permission. This page was last edited on 3/9/2018 by Gladius Voss
.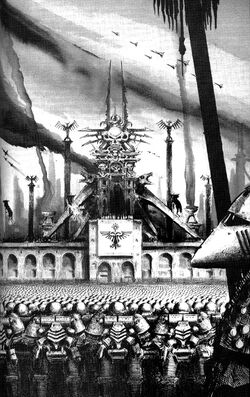 The Founding is the name given to the event of which the Emperor of Mankind formulated the Legiones Astartes - the Space Marine Legions - which would spearhead his liberation of all humanity. The founding would happen following the Age of Strife and at the closing of the Unification Wars which would bring about the burgeoning Imperium of Man on Terra. The legions used the gene-seed of the Primarchs who were engineered from the Emperor's genetic code within his laboratories in the Imperial Palace beneath the Himalazian (Himalayan) Mountains.
Despite the separation of the Primarchs, following the actions of the Ruinous Powers across the galaxy, their genetic samples were maintained and used for the genetic material to create the first Space Marines, originally formed from the Terran-born soldiers that followed the Emperor during the Unification Wars. The Legiones Astartes were formed into 20 concerted Legions from one specific gene-seed source, and as the legions reunified with their primarchs and established new homeworlds across the galaxy, each legions would become fundamentally different from one another.
Founding Legiones Astartes Legions
Edit